Updates & Changes: Sunday, April 14, 2013, thru Saturday, April 20, 2013


April 20, 2013 (B)

-
One of the weirdest things I noticed when looking through news reports of the capture of the second Boston Marathon bomber was how many different views there were of the boat and boat trailer in the back yard of what was once an ordinary house. I've seen at least 6. All the views were evidently on the Internet long before this week's events. Click HERE, HERE, HERE, HERE, HERE and HERE. The first three show the boat, the last three just show the empty boat trailer at a different time of year.

Someone also sent me an infrared shot of the boat that was taken by the Massachusetts State Police and

appears

to show
Dzhokhar Tsarnaev laying in the center of the boat:



April 20, 2013 (A) - I'm

very

relieved that the police have captured and arrested the 2nd suspect in the Boston Marathon bombings. With all the reports of massive gunfire, it didn't seem possible that they would have captured him alive. But, it now appears that a lot of the gunfire was just "covering fire" to make the suspect keep his head down while the police maneuvered into position. The only wounds suffered by the suspect happened the previous night after the car hijacking. While seriously wounded,
Tsarnaev was evidently able to climb out of the boat on his own:



It was apparently

very

annoying to conspiracy theorists and True Believers to see the crowds cheering the police as they drove away from the place where they had captured the second Boston bomber.

My web site logs show that lots of people were visiting a web blog called SodaHead.com where one blogger used images of the anthrax letters from my web site. Here's a cartoon from the LA Times used on that blog in the thread about Alex Jones' conspiracy theories:




Looking for where the pictures of the anthrax letters from my web site were used, I found it was part of a rant from "\V/" asking:


Who mailed these letters?
I want to know.
Come out from under your rock LA Times and tell us what you uncovered in you non investigation? Did Muslims do it?


Why did \V/ want

the LA Times

to uncover the "truth"? Evidently, it's because the

LA Times

has a story about how "Alex Jones has a sick theory about the Boston Marathon bombings."

Along that same vein, Cliff Kincaid has used the ricin mailings as an excuse to write a rant on newswithviews.com arguing that the anthrax case has not yet been solved.

In discussing the letters reportedly laced with the poison ricin, which followed the Boston bombings, correspondent Andrea Mitchell claimed on the NBC Nightly News on Wednesday night that there was an "eerie coincidence" to the anthrax letters that followed the September 11, 2001 terrorist attacks and killed five people. However, she quickly added that the anthrax letters were "unrelated" to the 9/11 attacks, a claim that remains completely unsubstantiated. She is covering for FBI incompetence.
It is still not known, officially and by adjudication in a court of law, who sent the post-9/11 anthrax letters because the FBI completely mishandled the case.

It's a very peculiar rant, as if Kincaid is upset because the ricin letters and the Boston bombings were not the work of al Qaeda as he hoped they'd be. Here's one paragraph which indicates that Kincaid can be almost as paranoid as Alex Jones:


Equally important, terrorism expert Steve Emerson said on Sean Hannity's Fox News program on Wednesday night that the Saudi national with a student visa apprehended after the bombing is being deported on "national security grounds" in what may be shaping up as
a high-level cover-up of Saudi, or other foreign involvement, in the Boston massacre
.

Another source quoting Steve Emerson on the deportation of the Saudi student is HERE, and another source says that Emerson repeated his claim on Glenn Beck's radio show, but an

unidentified

source on the subject says the story is

totally false

.

The official said that the confusion stemmed from another, entirely different Saudi man who is actually in Immigrations and Customs Enforcement custody.
"We do have a Saudi in ICE custody," the official said. "He is not related in any way to the investigation into the bombing. He's not in any way related to this investigation."
The Fox News report appears to be yet another example of bad information from the media - particularly from Fox News. It's getting so bad that we can reliably take the word of "an anonymous source" over that of a

named

"expert" on Fox News. But, digging further, I found that Homeland Security Secretary Janet Napolitano said the story was not true. The article from

The Hill

also says,

Rep. Jeff Duncan (R-S.C.) asked Napolitano about whether the wounded student was being deported at a budget hearing on Thursday.
Duncan argued that the administration was committing a grave mistake by deporting someone who was a witness to the bombing.
....

Napolitano said Duncan's question was based on reports that were not true and that her office would give him the real story.
"I'm not going to answer that question. It is so full of misstatements and misapprehensions that it's just not worthy of an answer," she responded. "There has been so much reported on this that's wrong, I can't even begin to tell you congressman. We will provide you with accurate information as it becomes available."
An administration official told The Hill that ICE officers have arrested a Saudi student in the Boston area for violating his visa by failing to sign up for school.
But this is not the same student who was injured in the attack and who has been the subject of numerous published reports since the Monday bombings that killed three people and injured more than 170.
And Senator Chuck Grassley is using the Boston bombings for his own political purposes.

It seems that no matter what the news is, many people are going to twist the facts to make them fit their own agendas.

April 19, 2013 (C) - I've been exchanging emails all morning, and it's getting to be time to eat lunch and head to the health club for a work out. At the moment, it seems that they have Dzhokhar Tsarnaev surrounded in a 20 block area of Watertown.

Someone just sent me a photo from thesmokinggun.com, which appears to show Dzhokhar Tsarnaev walking past some of the victims and dropping the backpack. It certainly obliterates any sympathy anyone might have about Dzhokhar being dragged into the bombings by his "bad" older brother. But the photo

may

have been doctored.

A shot of the 2nd suspect, the kid who was killed,

and

the backpack being dropped? The photo almost seems

too

incriminating. And, where did the photo come from? It did

NOT

come from the FBI's web site. Thesmokinggun.com says it comes from "one of the much-maligned online sleuths congregating on a Reddit page devoted to chasing bombing clues." Maybe there's good reason those "online sleuths" are "much-maligned."

I notice one of the commenters is also suspicious:


Excellent photo, except the circled backpack might be the wrong one. The ground zero spot was directly under the tree where "white hat's" left foot is standing. A rectangle of red bricks surround the tree. "White hat" dropped the pack right against the tree and walked off. The blast was right behind that row of people on the barricade, and bent the barricade outward and around the mailbox (to the right of the photo limit).
And another:
I wonder if that backpack in this picture is indeed the one that contained the explosive. If suspect 2 planted it there he would've had to do so around those people. Wonder how many of the people in the frame might have survived and noticed that manuever.... unreal someone could do this kind of thing.

Someone else noticed what I noticed: The first photo on smokinggun is NOT on a cropped version of the second photo:
Proof of image editing: Look at the top photo, then at the bottom photo. There's a head with a yellow hat in the bottom, which is missing in the top image.

And:
These images have been edited.

The photo in question was taken at the

second

bomb site, where it appeared that a brown and white backpack had been placed on the curb

in front of

the barrier. (See the photos with my comment yesterday.) And in the FBI video, the backpack carried by the 2nd bomber appears to be almost all white - or a light shade of gray.

I'll have to dig into this more tomorrow.


See my April 21, 2013 (B) comment for an update on this. The picture now seems real.

April 19, 2013 (B) - You might be interested in knowing that a top idiot from the second Bush administration is still around and voicing opinions. This is from The Washington Times:

Chechnya maintains a deep terror network, and the two Boston bombing suspects were likely taking direction from overseas, said former Ambassador to the United Nations John Bolton, in an early Friday morning interview.
That means more attacks could come to America's cities, he warned, in a Fox News interview. The entire country should stand on alert, he advised.
"These people are killers," Mr. Bolton said. "Make no mistake about it."
Mr. Bolton said terrorism has "been a way of life" for those living in the region of Chechnya for years because of Islamic radicalism and a struggle for independence from Russia.
Of course, John Bolton ignores the fact that the two Boston bombers had been leading "normal" lives in America for the past 10 years.

I really,

really

hope they take the younger brother alive. If Dzhokhar Tsarnaev is killed, it's going to be

extremely

difficult to convince anyone of the two Tsarnaev brothers' motivation based only upon an analysis of the facts.

April 19, 2013 (A) - When I turned on my TV to watch the news while eating breakfast this morning, I learned that one of the two Boston Marathon bombers was dead and the other, 19-year-old Dzhokhar Tsarnaev, was on the run.

Shootouts, a dead suspect, car chases and bombs going off are what the FBI was trying to avoid. Ideally, they would have wanted to grab the suspects as they left their home, or the FBI would have wanted to grab them while they were sleeping. But, I can see the authorities were between "the rock and the hard place." Releasing pictures of the two suspects would put them on the alert and ready to fight, or it might cause them to simply vanish. But not releasing the photos might give the suspects time to commit another attack.

When I first saw the pictures of the two men on the NBC Nightly News last night, I thought they looked like American college students. Now I read that they are Chechnyan refugees.


An uncle of the brothers told The Associated Press that the men lived together near Boston and have been in the United States for about a decade. They traveled here together from the Russian region near Chechnya, according to Ruslan Tsarni of Montgomery Village, Md.
So, they aren't American nut case terrorists nor do they fit the standard model for Islamic terrorists. They appear to be

middle-ground

terrorists - two brothers with a personal grievance of some kind.

Hopefully, the FBI and the police will be able to capture the remaining bomber alive. His friends and family do not believe he could ever do such a thing. If Dzhokhar is killed, they will probably continue to believe that forever - and conspiracy theorists will also come out of the woodwork. Here's a photo of Dzhokhar Tsarnaev: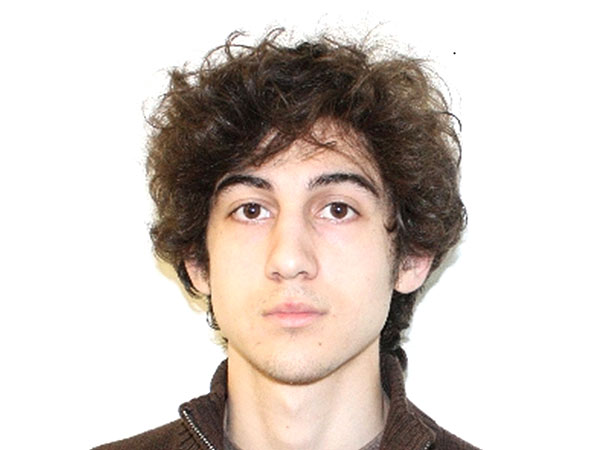 And here's some info about him from the British newspaper The Standard:
Dzhokhar Tsanaev is believed to have attended a Cambridge high school and was awarded a scholarship to pursue higher education in 2011.
His father Anzor told the Associated Press today that his son, who is still on the loose, is a smart and accomplished young man.
Speaking from the Russian city of Makhachkala today, Mr Tsanaev said: "My son is a true angel.
"Dzhokhar is a second-year medical student in the U.S. He is such an intelligent boy. We expected him to come on holidays here."
His brother a talented heavyweight boxer, who trained at a local gym, had posted Islamist videos on his YouTube account.
So, it

appears

that we have a bad and angry older brother leading a "good" younger brother into a terrorist plot to make some kind of "statement." Tragedy upon tragedy.

April 18, 2013 (B) - The New York Post is being criticized again, this time for printing on their front page a picture of two young men with backpacks at the Boston Marathon and the headline "BAG MEN: Feds seek these two pictured at Boston Marathon." The picture does NOT show the men the FBI is looking for. They are just two young men the FBI wanted to talk with, had located, had checked out, and had found them to be

not

involved in the bombings.

Meanwhile, the early reports in the media quoted a State Trooper who said that there had been between 25 and 30 victims who lost limbs in the blasts. A Los Angeles Times report now says that Boston Medical Center reported 7 amputations on 5 victims, Brigham and Women's Hospital performed 1 amputation, and Massachusetts General Hospital had 9 patients requiring extensive surgery, but hasn't reported how many amputations were involved - if any. The real number of amputations now

seems

to be 10 or less.

April 18, 2013 (A) - When I turned on my computer this morning, I learned that they have arrested the man who evidently mailed the ricin letters to President Obama, Senator Roger Wicker and others. He's a conspiracy theorist, but not one I've ever heard of before. According to USA Today:

Multiple online posts on various websites under the name Kevin Curtis appear to show a man who believed he had uncovered a conspiracy to sell human body parts on the black market and claimed "various parties within the government" were trying to ruin his reputation. The posts refer to the conspiracy he claimed to uncover when working at a local hospital from 1998 to 2000.
The author wrote the conspiracy that began when he "discovered a refrigerator full of dismembered body parts & organs wrapped in plastic in the morgue of the largest non-metropolitan healthcare organization in the United States of America."
Curtis wrote that he was trying to "expose various parties within the government, FBI, police departments" for what he believed was "a conspiracy to ruin my reputation in the community as well as an ongoing effort to break down the foundation I worked more than 20 years to build in the country music scene."
In one post, Curtis said he sent letters to Wicker and other politicians.
"I never heard a word from anyone. I even ran into Roger Wicker several different times while performing at special banquets and fundraisers in northeast, Mississippi but he seemed very nervous while speaking with me and would make a fast exit to the door when I engaged in conversation..."
He signed off: "This is Kevin Curtis & I approve this message."

One down, one to go.

The Boston Marathon bomber(s) is still at large, although there are news stories claiming that the FBI has pictures of two men they want for questioning. According to The Christian Science Monitor:

Video security clips from a Lord & Taylor department store across the street from the spot where the second bomb exploded show a man acting suspiciously, according to FBI personnel. He drops a bag and then walks away.
Images show him reacting to the first explosion by quickly exiting the site where the second explosion is about to occur.

According to CBS News:


The man sought as a possible suspect is a white male, wearing white baseball cap on backwards, a gray hoodie and a black jacket

According to
The Los Angeles Times
:
Authorities have obtained clear images of the faces of two men with backpacks who they believe were acting suspiciously around the time of the
Boston Marathon bombings
, a potential breakthrough in the search to find who planted the deadly devices, sources familiar with the investigation said Wednesday.
A department store surveillance camera caught an image of at least one of the men leaving a backpack near the finish line, a federal law enforcement official said.
Another official briefed on the investigation said the image that shows two men is the first indication that more than one bomber may have been responsible for the attacks that killed three people and injured more than 170 at Monday's race.

On NBC Nightly News last night, Brian Williams talked about similarities between these events and 9/11 and the anthrax attacks. Other news outlets were also pointing out similarities. As I was shaving this morning, I realized that the ricin letters were mailed on April 8 and the Boston bombings occurred on April 15, exactly one week apart. 9/11 and the first anthrax mailing were exactly one week apart. However, it now seems very clear that there is no connection between the ricin mailings and the Boston bombings.


Nevertheless, the comparisons seem to have spurred a large number of people to visit my web site. Yesterday, I had 922 visitors. I don't think I've had that many visitors since August 2008, after it was announced that Bruce Ivins was the anthrax killer and had committed suicide.


Yesterday, there was also a small jump in the number of people viewing my video about the handwriting in the anthrax letters. But, the large number of visitors to my site has had no effect whatsoever on sales for my book.

According to the Huffington Post, the pictures of the two "persons of interest" wanted for questioning in the Boston Marathon bombings

might

get released after the President's speech in Boston this afternoon.

April 17, 2013 - I had certainly hoped that they'd have arrested the Boston bomber by now. You'd think that if the bomb was set next to the curb as some media outlets seem to think, there would be dozens of photos of the guy who left the bomb there. The photo below is from NBC.




And below is the scene shortly after the explosion, with gruesome details blurred out:




Here's another view from later:




You'd think that a bomb going off next to a mailbox would blow the mailbox to bits, but the mailbox seems virtually unscathed. The same with the tree. No doubt a closer view would find the tree studded with tiny nails and the mailbox scratched by nails. And the lack of visible damage to the mailbox and tree would probably be explained by the fact that it was a

gunpowder

bomb, not high-explosive TNT or C4. Click HERE to view bomb parts.

The pictures above are apparently of the scene of the

second

explosion. There are similar pictures of the first bomb scene on the net. It's easy to understand why there were so many leg injuries with the bomb on the ground and so many people standing near it.

The bag on the curb clearly isn't the black duffle bag or backpack that is mentioned in the FBI briefings. I'm tempted to try to figure out where the first bomb was sitting, since it certainly wasn't by the curb. But, I've been side-tracked by an Anthrax Truther arguing on my interactive blog that the ricin letter sent to Senator Wicker was from the person he thinks really sent the anthrax letters. And as I'm writing this I learned that it now appears that a ricin letter may also have been sent to President Obama.

I also want to figure out why I had 731 visitors to my web site yesterday. I think that's the first time in

years

that I've had over 700 visitors in a day.

It's not entirely the result of the Boston Marathon bombings. I had 660 visitors on the 11th, which was

before

the bombings. I haven't had the time to try to figure out what people are looking for.

And, I also think it's a good idea for me to just wait as "the professionals" piece things together. I don't think I'm going to discover something they missed. Right now they don't see any connection between the Boston Marathon bombings and the ricin letters, but it certainly seems like a possibility.

While eating lunch, I turned on the TV and saw that CNN was showing a banner across the screen claiming that the Boston bomber had been arrested. At the same time, their news people were debating on screen whether it was true or not. I switched to NBC and they were saying that it was NOT true, but the FBI had videos showing a person placing the bag on the curb. And it's been reported that the letter sent to President Obama that

might

contain ricin was mailed in Memphis on April 8 and says, "To see a wrong and not expose it, is to become a silent partner to its continuance." And, it's signed, "I am KC and I approve this message." It wouldn't be that difficult to mail the ricin letters in Memphis and then drive to Boston for the marathon. But, while such a theory creates a much more interesting "case," I still have no solid reason to believe the crimes are connected.


April 16, 2013 - I'm not sure what I can or should say about the Boston marathon bombings. I just watched a briefing by the FBI & ATF, and they didn't say much - other than to clarify that there were

NO

unexploded bombs found. The only two bombs they know about are the two that went off. There were probably a hundred news reports about unexploded bombs being found or being detonated by high-pressure water hoses.

It seems clear that there were three people killed, including a 8-year-old boy whose mother and sister were among the injured. It

appears

that more than 140 were injured by the blast which

appears

to have involved a lot of shrapnel. One report calls the bombs "crude" and "unsophisticated." Another says the bombs were placed inside trash recepticles - which

could

account for some of the shrapnel.

The FBI and other investigators are being very quiet about "possible suspects," although the media is paying a lot of attention to a Saudi student who was at the scene.

I wondered about the elderly man in the race who on various videos was seen collapsing after the first blast went off very close to him. It looked like he'd been hit by shrapnel, but on TV this morning he seemed perfectly okay. The 78-year old had been stunned by the shock wave, and he evidently skinned a knee as he fell.

I have no idea who was behind the bombings, but the facts certainly indicate that it was a lone individual - which doesn't rule out a "foreigner" or any American lunatic. (Of course, The Lunatic Fringe is already saying it was a "government conspiracy.")

This looks like the kind of case that should eventually be fully solved. Bombs typically leave lots of clues. And there were many people with cameras at the scene - including dozens of media people.

Pictures of the same person near both explosion sites could be a key clue to solving the case.

Curiously, the bombs went off

hours

after the first runners crossed the finish line. So, in theory, the bomber

could

have been in the race. But, rather than speculate, I'm just going to wait for the professionals to do their jobs. It may take a few days - or weeks, but it seems to be an investigation that needs to be done very carefully more than very quickly.



Update at 11:12 a.m. CDT

: According to ABC, the number of victims was over 170, and 17 were critically injured. There's also a comment that a very unusual number of the victims seem to have leg injuries.
Another report says the number was 176 and that some victims had numerous nail-like objects or round pellets in their bodies.




Update at 4:30 p.m. CDT

: The Christian Science Monitor, Time magazine and many other newspapers are saying that one (or both) of the Boston bombs was made with a 6-liter pressure cooker packed into a black duffle bag. This comment from the Time article is particularly interesting:


And as a
newer DHS warning
about the kitchen devices noted,
the failed 2010 SUV bomb in New York's Times Square was a pressure cooker device featuring 120 firecrackers
.



That's probably the most ignorant comment I've seem from the media so far.



April 15, 2013 - An email I received this morning provided a link to a New York Times article about the salaries for college and university professors. The article says,

For the academic elite — tenured professors at private research universities — average pay this year is $167,118, while at public research universities such professors earn $123,393, according to the annual report by the American Association of University Professors.
......

But the difficult economic climate of recent years is taking a serious toll on higher education, especially public institutions. As states cut back their support for public institutions, the gap between the pay scales at private and public universities is continuing to grow, the report found. Average pay for assistant professors at private colleges that award only bachelor's degrees is $62,763, while public colleges paid $58,591.
I was also sent a link to an article titled "The Ph.D. Now Comes With Food Stamps."

The point of the email was evidently to show me that the climate is right for convincing college and university professors that it's a good idea to look for extra income from the growing Open Access scientific journal publishing business. Or they might try writing a "review" or "comment" article for an Open Access science journal. The amount they pay to get the article published doesn't need to be mentioned on their cv when they look for a better job or push for a promotion from their current employer.


This morning, my email inbox also contained a letter "from" Robert S. Mueller with the subject "UNITED STATES DEPARTMENT OF JUSTICE." But, the "Reply To" address was Barrister David Johnson at a ymail.com address. And, of course, the message was a 419 scam from Nigeria. I probably receive a half dozen 419 scam emails a day, but I think this is the first time I've received one "from" the FBI using what appears to be a valid FBI "admin" address. But, weirdest of all, the IP address in the email source code connects to an "academy" in Ohio that

seems

totally legitimate.

Could some underpaid teacher at that Ohio academy be earning extra money by assisting in Nigerian 419 scams? Or does the Ohio academy have some malicious code planted in its computer that allows scammers to forward emails from there?


Some days there are just

too many

new mysteries to wonder about. From the email:

Series of meetings have been held over the past 7 months with the secretary general of the United Nations Organization. This ended 3 days ago. It is obvious that you have not received your fund which is to the tune of $5,200,000.00 due to past corrupt Governmental Officials who almost held the fund to themselves for their selfish reason and some individuals who have taken advantage of your fund all in an attempt to swindle your fund which has led to so many losses from your end and unnecessary delay in the receipt of your fund.
Really??
April 14, 2013 - I'm still trying to sort through all the information that poured down on me last week regarding Open Access scientific journals -- particularly "

predatory

" Open Access scientific journals.

I wondered if there were any standard rules for "peer reviews" among the established and authoratative science journals. A Google news search produced an article published last week titled "Journal editors' anonymous reviews criticized by COPE." That headline probably could use some editing, since it might better read "Anonymous reviews

by

journal editors criticized by COPE." It's evidently okay for peer reviewers to be anonymous to the author and the public, but it's

not

okay for

an editor

of a journal to review an article anonymously.

"The reason editors shouldn't be given the same anonymity as other reviewers is that there is nobody to oversee and evaluate them," [COPE council member Irene Hames] said.
"It is a deception of the authors. I have come across editors who have almost boasted about it and said: 'I never have a worry about finding reviewers because I just do it myself.' That, to me, is shocking."

The article says COPE just issued new rules. The new rules can be viewed by clicking HERE. The first rule seems very logical:


Peer reviewers should: only agree to review manuscripts for which they have the subject expertise required to carry out a proper assessment
and which they can assess in a timely manner

There's also information about COPE:

The
Committee on Publication Ethics
(COPE) was established in 1997 by a small group of medical journal editors in the UK but now has over 7000 members worldwide from all academic fields. Membership is open to editors of academic journals and others interested in publication ethics. Several major publishers (including
Elsevier
,
Wiley–Blackwell
,
Springer
,
Taylor & Francis
,
Palgrave Macmillan
and
Wolters Kluwer
) have signed up their journals as COPE members.
It appears there's also a problem with authors supplying their own peer reviews which they write themselves using fake names. And there's a problem with rave peer reviews being written by underlings at the request/demand of their author bosses.

Blimey! Those are problems the "

good

" science journals are having!

I wanted to know more about the OMICS group, so I decided to take a look at journals published by OMICS which relate to my favorite science subjects. I began with the Journal of Astrophysics & Aerospace technology. The main page says,


The journal includes a wide range of fields in its discipline to create a platform for the authors to make their contribution towards the journal and the editorial office promises a peer review process for the submitted manuscripts for the quality of publishing.

Hmm. A May 25, 2012 editorial describing their goals says,


Free access to knowledge was never forbidden by ancients. In factthe knowledge created in different branches was written and compiledby many unknown authors and it was accessible by all and disseminatedby those who had wisdom. Through the keen observation and innovativethinking about various phenomena in nature by humans whowere transferring and creating new knowledge, it became possible toharness the newer products which gave momentary material comfortand happiness to humans. As an example, it has become possible tocommunicate from not only one part of the globe to another part butany object anywhere in the universe emitting certain signals. Moreoverit has also become possible to travel long distances to different partsof the universe either with living beings or without living beings duringthe lifetime of humans and get many information about the distantobject in the universe.

The experiment of open access journals adopted by OMICS publishinggroup seems to history repeating itself in the cycle of creatingnew knowledge as it will become major source of knowledge immediatelyand permanently available online without charge, in contrast toinstitutional or personal subscription to view other's articles, to globalcommunity and in particular to young and aspiring generation whoare keen to pursue a career in Science. The quality of knowledge containedin papers, reviews and articles will be world class as each one ofthem will be critically examined by experienced reviewer. Moreover,the papers, reviews and articles appearing in open access journals areenvironment friendly and sustainable as it is in a digital mode and doesnot require any paper and the knowledge created is available at any timeof the day or night. This technology driven effort may do away withimpact factor, science citation and several other pseudo factors whichdepends on number of scientists working in their network and used byscientific community in a polarized manner to undermine the efforts ofauthor to create new and original knowledge.


As far as I can tell, there's only been one issue of this magazine, and there seems to have been only one actual article in the first issue published in May 2012. The article consists of 4 paragraphs. The missing spaces between words exhibited in the editorial above are a problem in that article, too, even though there are six people on the journal's editorial board. Here's some information about submissions - in case you're interested:


Manuscripts number will be provided to the corresponding author within 72 hours for the respective manuscript submitted.

21 day rapid review process with international peer-review standards.
Timeline of processing from Submission to Publication is 45 days.
Manuscript will be published within 7days of acceptance.

It appears there will be a OMICS-sponsored Astronomy & Cosmology conference held on August 14-16, 2013, at "Chicago-North shore, USA," which appears to be the Marriott Renaissance Chicago North Shore Hotel in Northbrook, IL. 8 meetings and 4 nights accommodations cost just $1,999. No speakers have been named yet.

I checked out a couple other Aerospace-related journals to see if they are doing better, and a few appear to be, although they also seem to fill some issues with editorials. The Journal of Aeronautics & Aerospace Engineering has apparently had 5 issues. The editors separate words with spaces okay, but they still have a definite problem with the English language. The abstract for an article titled "Cockpit Voice Analysis and Diagnostic Based on Conditional Rules & Fault Tree Analysis" begins this way:


The characteristics of cockpit voices (sounds) recorded by Cockpit Voice Recorder (CVR) are key evidences in investigating accident causes for wrecked airplane. In order to analyzing and diagnosing wrecked airplane causes through cockpit voices in CVR, some researchers are made as followings in this paper: Firstly, some typical background sounds of cockpit voices, such as wind shear audio, near-earth audio warning, take-off form of audio warning, fire alarm and so on, are obtained and classified through listening and distinguishing by adobe audition audio software in laboratory.


The one "editorial" I read, "Taming Heat for Safe Lithium-Ion Batteries" seems to merely describe the problem, suggesting no solutions. But, it seems that's all that it was intended to do. A scan of the other "editorials" seems to show the same thing, they just describe a problem or issue or area of interest. They seem to have been written as "fillers." The

Journal of Aeronautics & Aerospace Engineering

's web site
has an ad for a conference scheduled for September 30 to October 2 in San Antonio, Texas. That conference is also organized by OMICS, and the costs are the same as for the Chicago conference. They also do not appear to have any scheduled speakers yet.
The journal Anthropology appears to be just a shell waiting for someone to write and submit something. They have an editorial board of 10 people. The Journal of Astrobiology & Outreach is also a shell, but with an editorial board of 12 people. They also advertise the August conference at the Chicago North Shore Hotel. The journal Oceanography is just a shell with an editorial board of 33 people. They advertise a Manta Ray Symposium to be held in Orlando, FL, on August 21-23. Same prices.

Some psychology journals seem to have articles about actual research. The Journal of Psychology and Psychotherapy has an editorial board of 22 people. They advertise a conference to be held

this week

, April 15-17 at the Hilton in Northbrook, IL. They list four speakers, and they say it's their 3rd annual conference.
So, it appears legitimate.

The impression I get from all this is that the OMICS group has set up "shells" for about 200 journals, and then they hunt for some "expert" to take charge of each one. Meanwhile, they set up the conferences that

may

be like those

Popular Science

wrote about in its recent article "Bogus Academic Conferences Lure Scientists."

But, everything clearly depends upon who takes the bait and puts the journal into operation. If it's someone honest

and capable

, you could get an excellent journal and very informative conferences. If it's someone more ambitious than honest, someone naive or less than capable, the journal could end up publishing nothing but fillers and the conferences could get cancelled.


The Journal of Bioterrorism and Biodefense has the largest editorial board of any journal I checked, with

58

editors. The current issue seems to consist of 3 editorials, 2 "Review Articles, " 1 "Commentary" and 1 "Research Article." The previous issue also had only 1 "Research Article." And it advertises a conference called "Biodefense & Natural Disasters" to be held in Orlando, FL, on August 21-23. Same prices.

I noticed a link that indicates there have been at least 50 OMICS organized conferences in the past year and half or so. Click HERE, HERE, HERE, HERE and HERE for reports on these conferences which

appear

to have taken place as planned. Weirdly, the list also includes a conference on Hotel and Business Management.

However, when I click on a link to a "previous" conference on Biothreats & Biodefense, I get a page about what they

planned

, not what actually happened in October 2012. The same with a conference on Biotechnology in September 2012.

It's all very hard to analyze. There's certainly the

potential

for scamming and for fraud, but there also appear to be some "legitimate" journals operated by knowledgeable people who mean well and do their best to produce a quality product. It just seems that, in such a smarmy environment, building a respectable and authoritative scientific journal could be like staging a successful production of Shakespeare's

King Lear

in a saloon on Bourbon Street in New Orleans.

While doing this research, I found a Letter to the Editor of the

Journal of Bioterrorism and Biodefense

criticizing the first of the two Hugh-Jones et al articles. I'd seen it before, but totally forgotten that I'd written about in a comment on February 7, 2012. The criticism in the Letter to the Editor was about using newspapers and newsletters as input for a scientific article. Here's the final paragraph:


In closing, it may be worthwhile to note that published works that do not have the benefit of a scientific peer review process may be subject to conjecture, resulting in the publication of content that has not been verified.
Reliance upon such works for the development of consequential technical theories can yield results that are incorrect.

In other words, garbage in = garbage out.

The new business of Open Access scientific journals seems like the Wild West, with no real law and order. It's a dangerous place for lone cowboys as well as bankers, doctors, farmers and newspaper publishers. Since Open Access to the scientific journals means the articles are free to readers, the rule seems to be

Caveat Lector

-- reader beware.